GoSee: Endless Dream by Elena Øhlander @Space42
As soon as you enter the space of the current Space42 gallery exhibit in the CoRK Arts District, you're met with a door. A door surrounded by wispy, billowy silks that subtly suggest "Toto, I don't think we're in Duval anymore...". A door that will literally transport you into Elena Øhlander's Endless Dream world. And what a beautiful, surreal, and sometimes disturbing (but only if you're paying attention) dream it is.
I was fortunate enough to be able to attend the opening reception of the exhibit last week and it exceeded my already high expectations. I'd only been vaguely familiar with Elena's art before the show, but had found what I'd seen thus far to be quite appealing as a lifelong fan of anime and manga - both of which are heavily themed inspirations for her work.
Aside from the art of Endless Dream being incredibly amazing (we'll get to that in a bit), the entire experience was excellently curated. The look and feel of the gallery environment is just as much a part of the show as the work itself. As you wander around Elena's Dreamscape, music with traditional and contemporary Japanese/Chinese overtones fused with Hip Hop and other styles of music I can't quite recall, provide the soundtrack to the experience. You're invited to meander from one wide, open space to the next to bear witness to the pieces that, at a glance, may seem unassuming, but upon closer and deeper inspection reveal a complex look into the psyche of the artist and subject matter. You don't need a deep or comprehensive understanding of Japanese culture to connect with the themes on display (though it does help to have some context to understand what is literally being portrayed), because it all feels somehow familiar.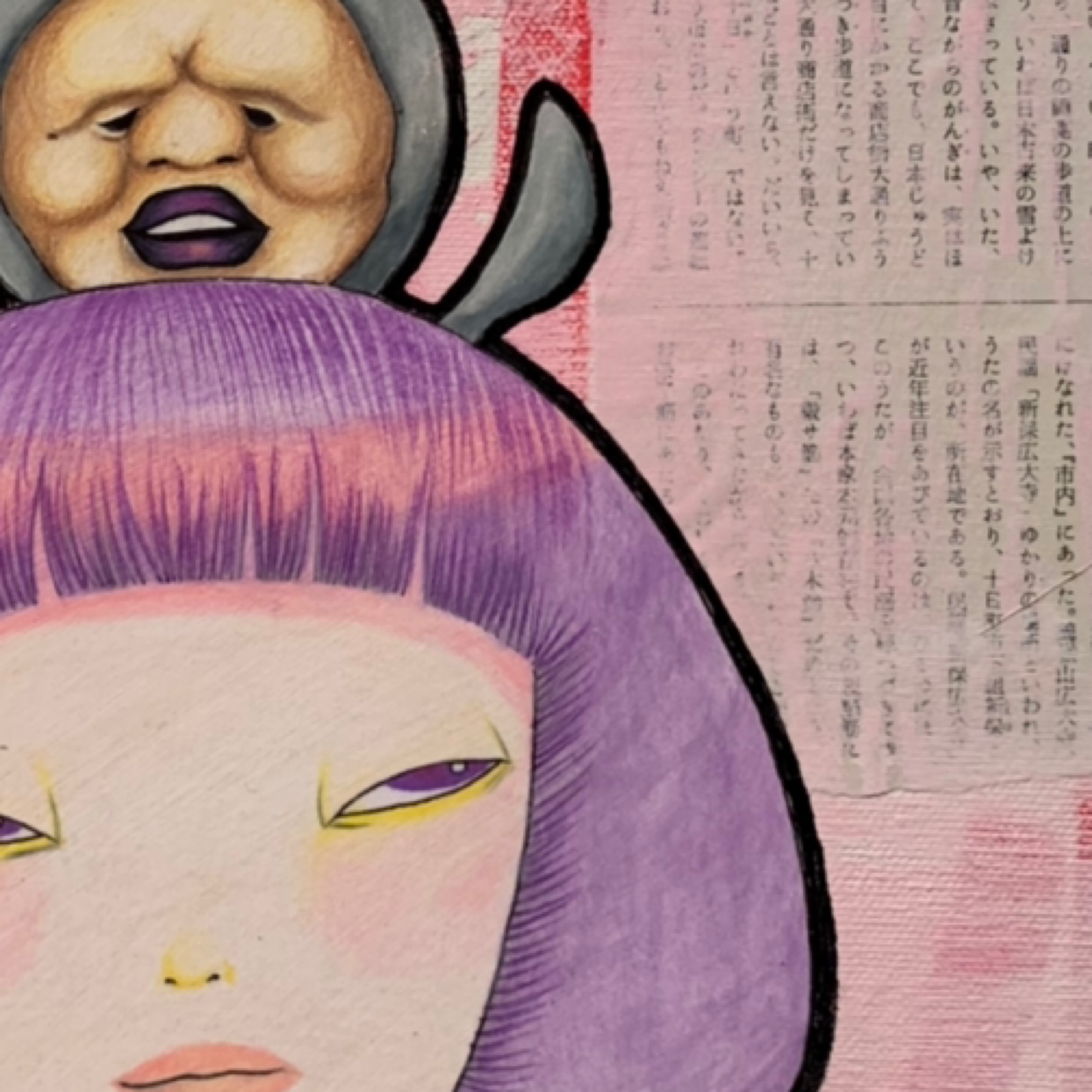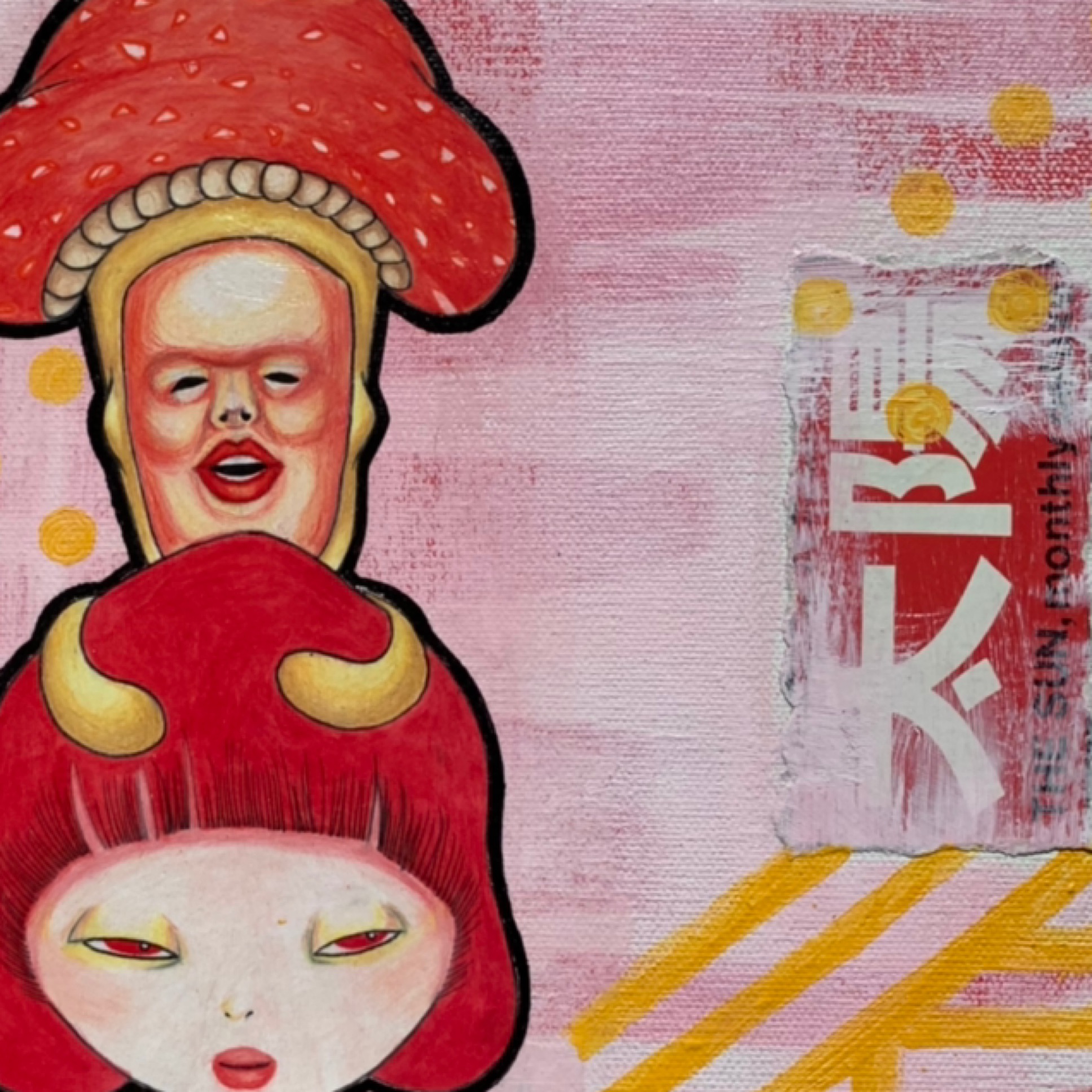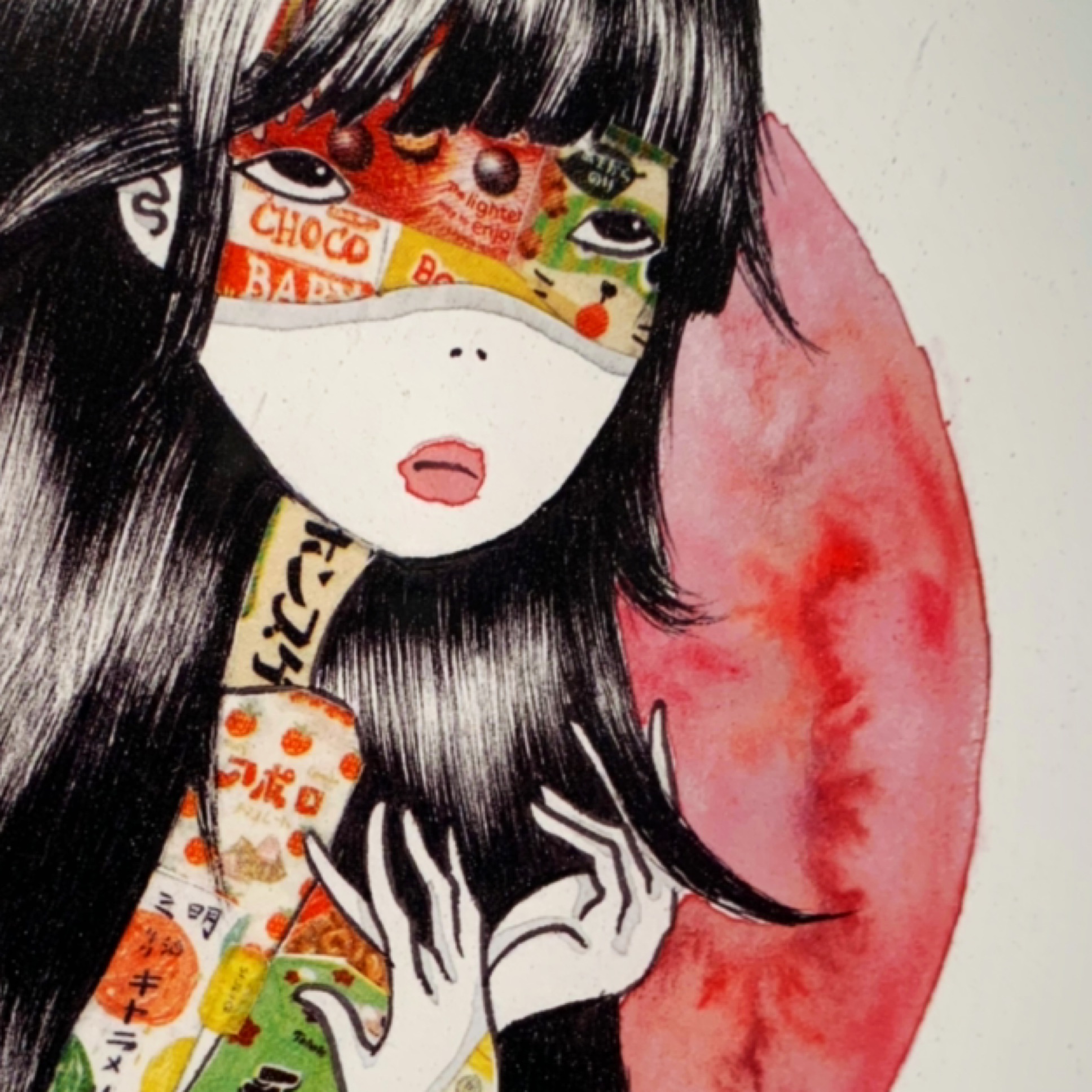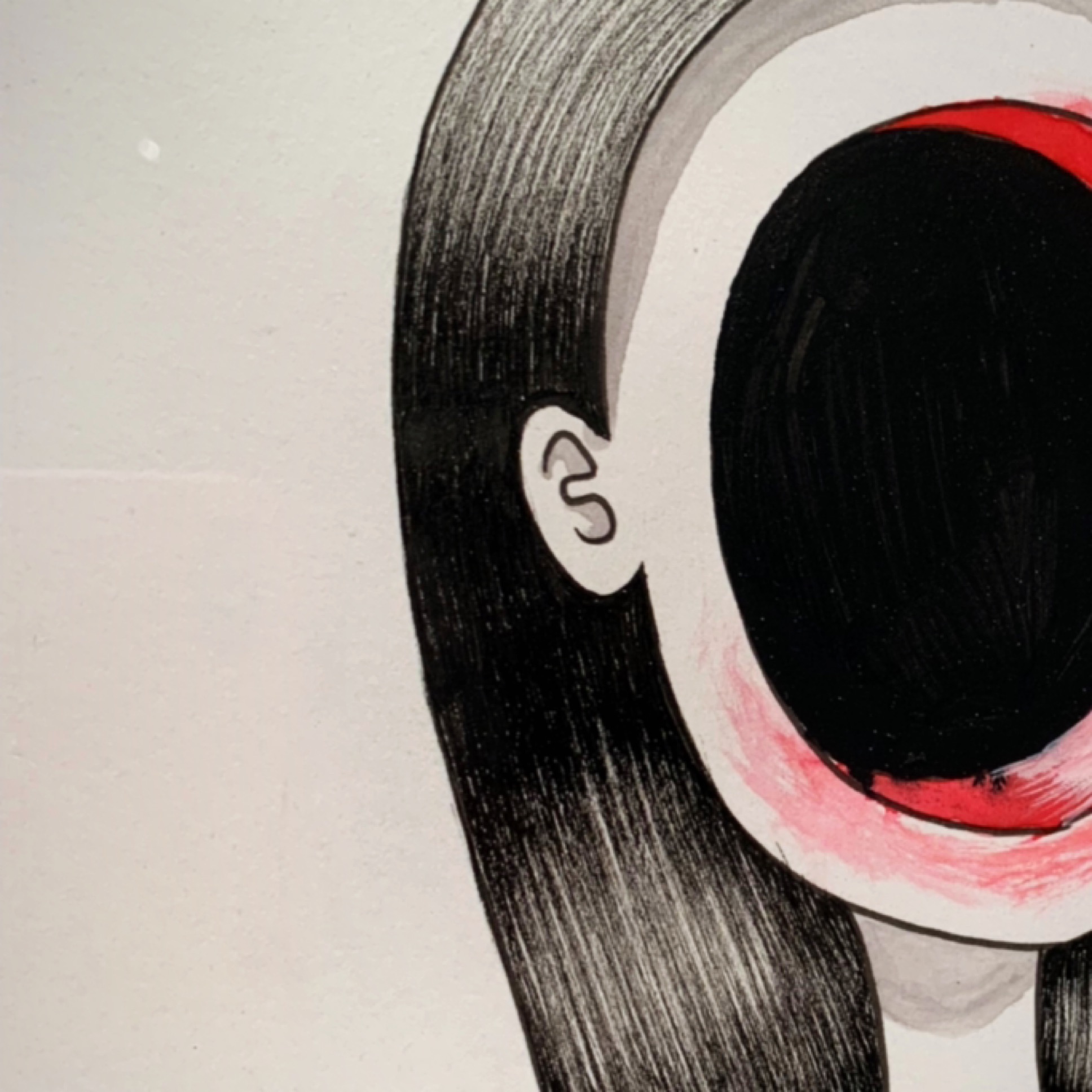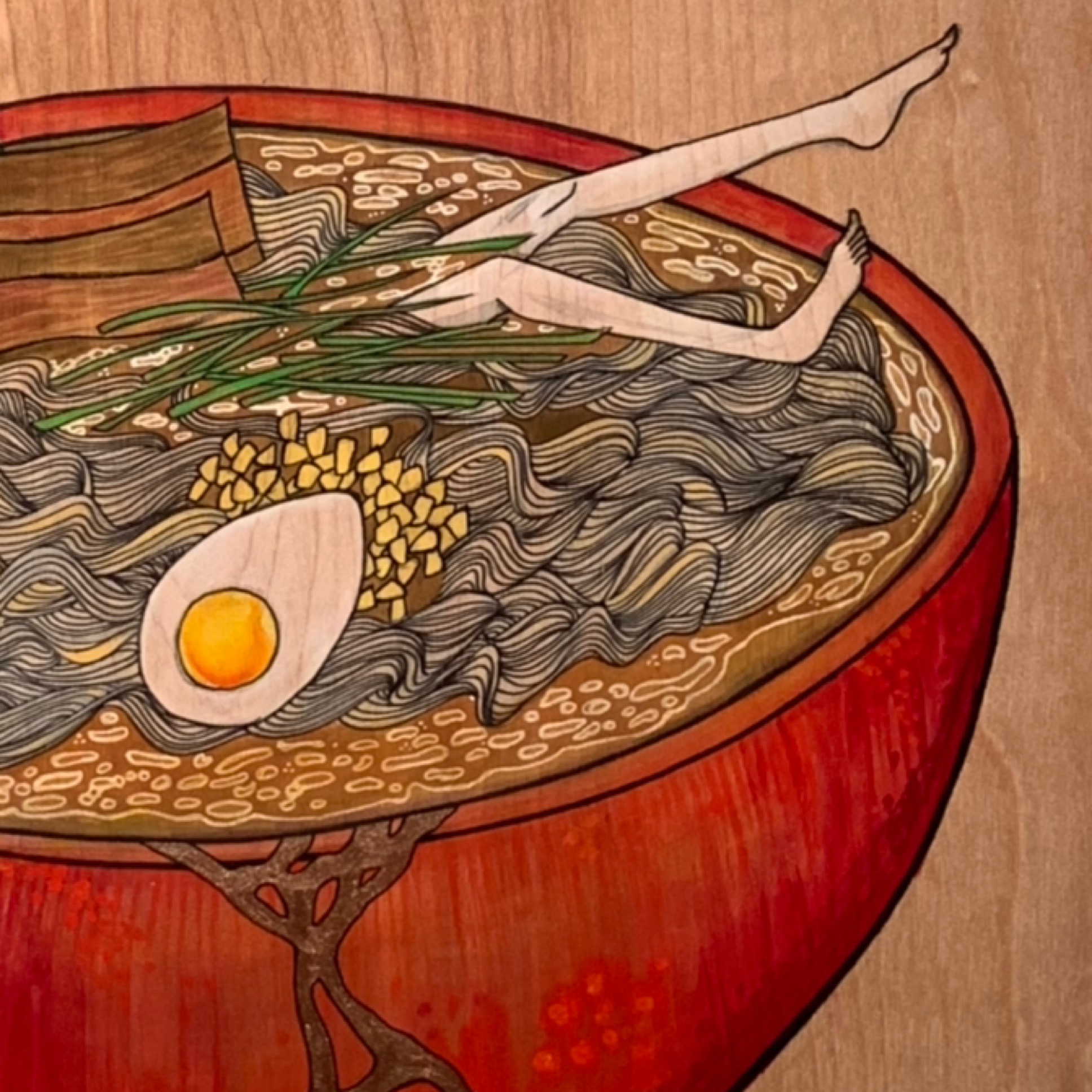 The work itself is whimsical, thought provoking, and at times unsettling. Drawing you in with bold colors and a wide range of textures, the pieces are both simple and deeply intricate.
Folio Weekly wrote: "As first-generation immigrants of Chinese and Norwegian descent, Øhlander's parents were more interested in assimilating into their adopted culture than preserving the traditions of their respective heritages, leaving young Elena on her own to explore her identity as an Asian-American. Young Elena developed an affinity and appreciation for the most predominant pop culture phenomenon to reach the States from the Far East, anime and manga. In these, she found empowerment through the positive and heroic depictions of Asian people, especially female protagonists, who were relatable if not identical. They also helped her leave behind a rough childhood as the victim of abuse."
The common thread of these influences runs through every piece in the collection making it accessible and relatable. I highly recommend experiencing it for yourself and becoming familiar with Elena's work as a whole. Pieces from one of her previous exhibits - Ramen Girl - are also on display at the gallery and are equally impressive. Take the time to check it out before it's gone and the memory is simply... a dream.